Disinfection helps to prevent the spread of viruses
Pro-Force Facility Service cleaners will completely sterilize your commercial property and make it allergen, mold- and germ-free. It does not matter if you need help with your home, office, or other commercial facilities, we invite you to get in touch with usContact Us and let us know what your needs are.
Simple household cleaners cannot meet your expectations, no matter how often or regular you use them. A professional home disinfecting and sterilizing service is the most cost-effective and successful at removing germs.  Our team of technicians consists of experienced cleaners that only work with the safest, most effective steam cleaning sterilizing and disinfecting equipment and products for your home.
A Pro-Force Facility team member will assess your home or office and discuss the most effective disinfecting and sanitizing service option for you.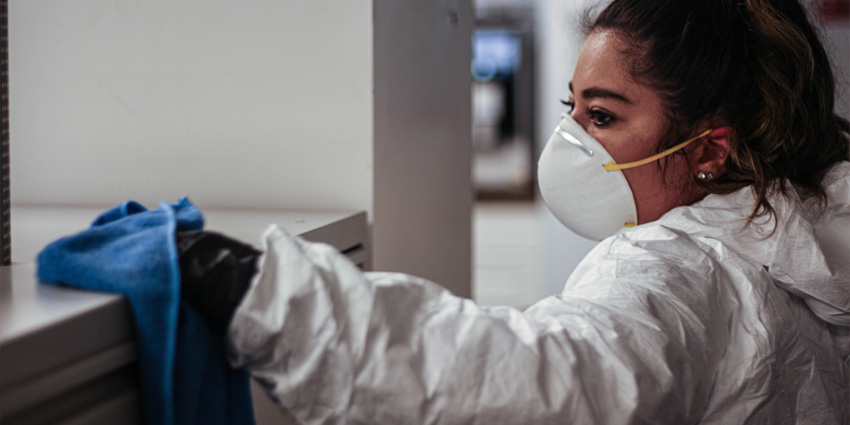 Business and Industries We Service
Pro-Force Facility Service is ideal for any high-traffic business that is interested in protecting people from the unseen dangers of viruses, bacteria, and fungi.
  Residential and Commercial Businesses Serviced
We service both • Residential and Commercial Buildings • Houses of Worship • Vehicle Dealerships • Children's Recreation Centers • Daycares • Schools & Universities • Distribution Centers • Grocery & Convenience Stores • Gymnasiums • Hotels • Healthcare • Lobbies • Waiting Rooms & Reception Areas • Locker Rooms • Municipalities • Office Environments • Public Transportation Vehicles & Centers • Restaurants & Food Services • Retail • Theaters • Additional Risk-Averse Areas.
EMERGENCY COVID-19 SERVICE AVAILABLE
KIlls 99.9% Of Bacteria and Viruses! Protect Your Family or Employees!
Call us now and book a disinfection service today! Contact Us
  Features and Benefits
U.S. EPA-registered
Environmentally-friendly and biodegradable
Hypoallergenic and non-flammable
Non-abrasive to surfaces, leaving behind no visible residue or harsh fumes
Eliminates unpleasant odors
Can be used against coronavirus, norovirus, H1N1, SARS, MRSA, swine flu, E. coli, Salmonella & more
Surface wipe-down of special and recessed areas

TouchPoint Cleaning Services
TouchPoint Cleaning is a system of cleaning that focuses on high-traffic areas specifically "touchpoints". A few examples of touchpoints are; light switches, tv remotes, computer keyboards, doorknobs, elevator buttons. These are considered high-risk areas to come in contact with the disease, viruses, and germs. Touchpoints are the most important areas to address when cleaning.
According to the CDC, "High-touch surfaces are surfaces that are handled frequently throughout the day by numerous people." Everyone's home and office are a little different, so the surfaces we touch the most will vary depending on habits and routines. Here are home and office cleaning tips straight from the CDC. Some additional examples of high-touch surfaces include:
Doorknobs ♦ Sink faucets and knobs ♦ Phones ♦ Table surfaces ♦ Dining chairs (seat, back, and arms) ♦ Kitchen counters ♦ Bathroom counters ♦ Toilets (seat and handle) ♦ TV remote controls ♦ Toys
Request a Call Back from Pro-Force Facility Services today!